8 Best False Ceiling Design For Bedroom
False ceilings are a good solution for false architectural features in a room. False ceilings are ideal for installations that require wireworks and a ventilation system over the ceiling while providing insulation where needed. These ceilings can improve sound transmission and make a room look larger by extending its height. They also allow for easier dusting between ceiling beams that are usually out of sight under regular ceilings. False ceilings also help reduce noise and moisture build-up, minimize the need for air conditioning, and save space by providing extra room above floors. There are 8 ideas that will help you choose the right stuff. 
Tray False Ceiling Design For Bedroom
The tray false ceiling design is commonly known as the inverted tray ceiling. This ceiling has a lot of benefits. This faux ceiling gives your bedroom decoration design a more capacious feel because it creates the illusion of higher ceilings. When installed correctly, this design is also very durable and trouble-free due to its simple design.
Coffered False Ceiling Design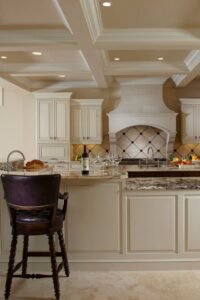 Coffered ceilings are a unique way to increase the visual appeal of your house — these beams help make your ceiling look open and spacious. They can be made from materials, which may include plaster, POP, and even wood. These ceilings are the best to use in rooms like master bedrooms, living rooms, dining rooms, and kitchens.
Extended Panel Design
A false ceiling on the walls above your bed is a superb idea to save space in your small room. This style makes use of the horizontal board, running from one side to the other side and up to the false ceiling. These ceiling designs can be made with metal, glass, and even timber. By using them as headboards, it looks like there's no wall behind it at all.
Circular False Ceiling Design For Bedroom
You can create a visually appealing focal point in your bedroom decoration design by adding circular lighting fixtures. These lights can be placed directly inside a circular cut-out from the ceiling or can be hidden inside recessed illuminating features located within the walls or ceiling. The result will be an effect that focuses your attention on both the false ceiling and your bed.
Use Mirror As A False Ceiling Design 
You can utilize mirrors to cover the entire area of the false ceiling that making your bedroom design look contemporary. It also provides an exceptional visual effect and gives the impression of a larger space. In addition, you can use this in homes with small windows as they make your latest living room design look bigger than it actually is.
Wooden False Ceiling Design
Add up a personal touch to the room using wooden planks or beams on the ceiling. There are some manners that you can make the most of this material: from lining up the planks in parallel or cutting them into smaller pieces and laying them out in a criss-cross manner to make a grid effect, there's something here for every style. To make the most of your wood options, consider not only the aesthetic appeal but also durability, cost, and unique advantages. If you are designing a woody ceiling in an area that doesn't have a controlled temperature, it would be right thinking to fix a thermally insulated ceiling panel as well as proper ventilation for optimal performance.
Floating Ceiling Design
A floating false ceiling adds up a new level of beauty and grace to your latest living room design. It's lighting also increases the dramatic effect and brings a different feel to your room. The contemporary look can be achieved by adding some cool creative lights to highlight the beams on it. The less visible mounts will make it look floating in the air and the paint color that is chosen for the false ceiling helps add more sophistication to it.
Zone False Ceiling Design
False ceilings are all about creating zones within your room, breaking it up into different areas that each serve distinct purposes. Install a false ceiling above your bed to create a sleeping area complete with integrated task lights to keep it cozy during the night and keep you focused while studying during the day. If you have an open area that can serve as both a sitting area and study table, a dimmable light would be useful here as well.
Read Next:Lavish and Luxurious Bedroom Backdrop Design Ideas you should try out
Related Topics:Bedroom design interior