7 Coolest DIY Pendant Lights That Add Style And Charm
Introduction
Pendant lights are now seen as the most wanted best design for home of lighting. They're hanging lamps that are suspended from the ceiling so that the light is directed right where you need it. Add a special look to your room with lovely hanging lamps that are decorative and practical. But if you want to invest in a new pendant light system, it will cost you lots of money for sure. So if you don't want to spend much or don't have enough cash to buy perfect yet expensive lighting systems, then it's time to choose these DIY pendant lighting ideas. You can also make these at home easily because they are so simple and elegant with easy steps to create a lovely pendant light for your homeideas design. These DIY pendant lighting ideas will improve the homeideas design without increasing your expenses.
Tassel Pendant Light
The pleasing beaded tassel pendant light will bring a festive vibe to any room, in any season. It is super easy to manufacture and makes a great gift for the crafty person in your life. This project uses basic tools like a glue gun, worsted weight yarn, and scissors. Every bead adds texture and every tassel has its own knotting story that gives this piece its unique charm. 
You need a little less than 4 meters of yarn for this project, but this depends on how big you make the tassels. After cutting the yarn into a tassel shape, glue them to the lace band, and then spray color the entire piece with the acrylic hue of your choice. 
Yarn Pendant Lanterns
You can make pretty cool colorful yarn lamps. It incorporates the utility of different colored yarns, balloons, corn starch, and a glue gun. They will be a superb piece of decoration for the dull places and channels you make in your home interior decor. You can manufacture them easily at no cost and make them your own to sit on the benches, sofas, beds, or other places in your home.
Upcycled Fruit Basket Into DIY Pendant Light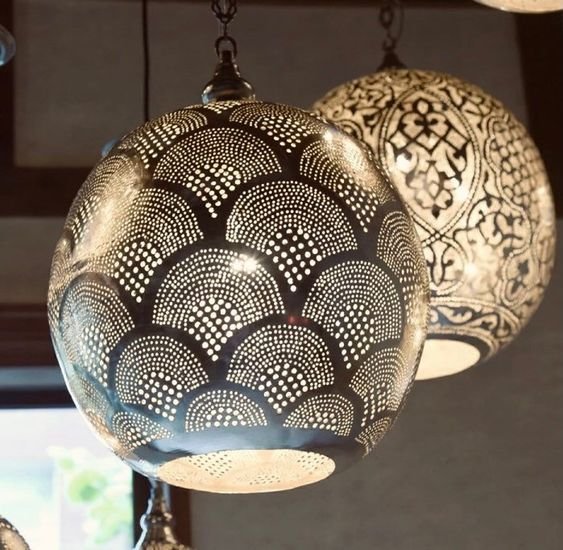 If you have a wire basket and some hooks, then this simple DIY Pendant Light Upcycled Fruit Basket Light idea would be best for your dining room. It will give it the best look and makes it more stylish. The bulb placed inside the basket gives a beautiful light effect that can make your dining room cozy and glowing.
Uncycled Utensils Crock Pendant Light
This awesome DIY pendant light idea is affordable and feasible to manufacture at home. Using a bulb and a utensil crock and some extra resources, you can create a stylish look over any dark section of your home. Its silver color makes it look elegant, so you don't have to worry about the combination of hues at all. It will provide excellent lighting in any room, whether you are trying to give summery looks or just need some extra light in the kitchen.
Glass Pendant Light
Glass DIY pendant light design make your home classy and elegant. They look far more enchanting than any other best design for home, but they need care in their handling. Experiment with different shapes of glass and hues to create attractive light patterns on the wall. You can accent your lighting design by wrapping some colorful laces around the electric string for an added design element that's sure to conjure up happy memories every time you turn on this amazing light fixture.
Tin Can DIY Pendant Light
Tin Can Pendant Lights are very useful in recycling ideas. These can be made for empty tins and colored with stunning colors. These cute and lovely pendant lights are an eco-friendly method to brighten your home's interior. You need old tins, transparent paints, wire, a cutter, and some time for it to create one of your own. Cut the tin into the shape of a pendant, hang it on a wire, and color it the way you prefer. 
DIY Paint Stick Pendant Light
Upcycle an old lampshade by using paint sticks and epoxy to revamp it. Just cut pie-shaped pieces from the sticks, and glue them on the shade to create a geometric pattern.
Read next: Lighting Ideas To Transform Your Home's Exterior
Related Topics: Interior lighting design