Spare some time to make your bedding more comfy and elegant
Bedroom design process have multiple factors and aspect to consider. Your bed needs your humble attention to get an elegant look. To make your bedding stylish does not mean only to play with colors. You have to give importance to the minor details. Many things are important to have cared for when you want to choose the perfect bedding for your bed. Let's have detailed notes on how to choose the best type of bedding for your bed.
Key points in the selection of your bedding
A few key points can help you make the right choice for your bedding.
Keep in mind your bed size

Think twice about the appropriate material of the bedding

Do not forget about your pillows and cushions

Make a beautiful color theme for your bedding

Do customized styling for your bedding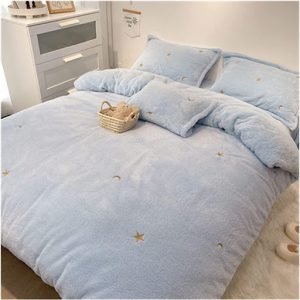 Your bed size is important when you intend to choose perfect bedding. Usually, bedding sizes are available as single, double, and king size. You can opt for it according to the size of your bed and mattress. It is noted that the bedding has some extra length and width to cover the mattress entirely.
Material is the most important
The material of bedding is the most important factor in making your bedroom design comfy and elegant. A variety of materials is available for bedding in stores. You are not supposed to pick up the trending one. Choose the one you feel comfortable with. Some good bedding materials are listed below with details.
Upland cotton for bedding
Upland cotton is the most well-known form of cotton that is mostly used for bed sheets. It has a lower cost than other types of bedding materials. It is very comfortable, and people like it due to its cheaper rates and still breathable surface. One more advantage of it is that it is easily available everywhere as upload cotton is one of the most grown cotton types in the world.
Egyptian cotton is a delicate bedding material
Egyptian cotton is an expensive bedding material. This type of cotton is grown in Egypt, and due to handpicking, it is very delicate and durable at the same time. You can opt for it if you have enough budget for it. Its softer touch gives a luxurious experience and royal elegance to your bedding. It is very important to search for a reliable brand as many brands sell Egyptian cotton mixed with standard cotton.
Pima Cotton: a good substitute for Egyptian cotton
Pima cotton is one of the purest types of cotton. It has a durable fiber that makes it softer. Like Egyptian cotton, it is also expensive due to its lavish form but lesser price than Egyptian cotton. It is mostly used for bed sheets. 
Micro cotton: a finer bedding material
Micro cotton is finer in quality. It is a trademark for Indian cotton. The best thing about Micro cotton is that it is extra observant. In the beginning, producers used it in manufacturing towels, but now, due to its fine thread and super observant features, it is used for producing bed sheets. It is a little bit more expensive than regular cotton. It is not easy to search as few producers are investing in it.
Flannel: a good option for your winters bedroom design
Wool, cotton, and some other materials are used to form flannel. It is one of the best options for your winter. It keeps you warm and cozy. Flannel beddings are heavier than cotton beddings, but they make you warmer for a long time through their weight. It has an economical price range, so you do not need to worry about your budget.
Silk: an elegant bedding material to provide a deluxe feeling
Silk is the most expensive bedding material. It gives you a smoother royal feeling. It is naturally non-allergenic. You can pick one if you have an awful budget. Moreover, silk bedding needs much care due to its delicate fabric. But, no doubt, silk beddings are great in making your bedding more relaxing and majestic.
Linen: most commonly used bedding material
Linen is the most commonly used bedding material. It is thicker in its form than cotton beddings. But it is softer and breathable. People like it due to its durability.
 Be choosy in opting for blankets and duvets during bedroom design
Blankets and duvets are an important part of your bedding. You may choose them wisely by using some simple tips.
Choose your duvet according to the season and bedroom design, like heavier ones for winters, lighter for summer, and medium weighted for autumn.

Opt for colors that may suit your bed sheets and bedroom design color scheme.

Never compromise on quality.

Make sure to do regular cleaning and timely replacing.

Try your best to opt for a duvet or blanket nearer to natural materials.

Always read the tag thoroughly to find out thread counting plus important instructions and features. It may help you to choose the right one for you.
READ NEXT: Tips to choose the perfect duvet cover for you
RELATED TOPICS:bed design for bedroom